AN INTRODUCTION OF THE
"PARKINSONIAN LADDER"
USING A NEWSPAPER

Shinji Kitazono

P.T.Rehabilitation
Chiba-prefecture,Japan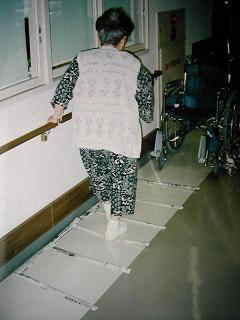 PURPOSE:

It is well known that the "FROZEN GAIT" of Parkinson's disease can be improved
by putting a obstacle or drawing a line in front of patients.
We sometimes use a stick or a bar as an obstacle.

But it may be moved easily by stepping on it and also patients sometimes may
lose the balanse of the body.
Additionally in case of drawing a line or using a line
or using a plastic screamer on the floor the probable place is limited.

In order to compensate for these defects,I made a simple device "Parkinsonian ladder" which can be made and used easily.

DESCRIPTION:

(1) Rool up 5 sheets of newspaper
(2) Join them together like a shape of a ladder using cellohantape and stapler.

You can make it with in 5cents.
You had better advise your patients to walk without stepping on it.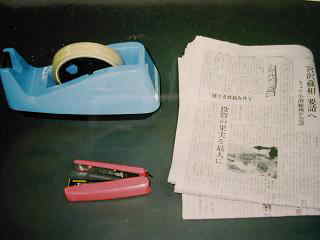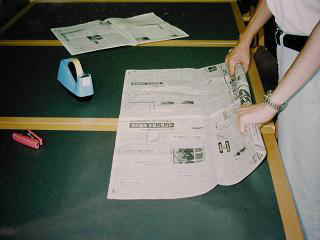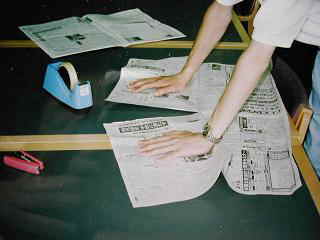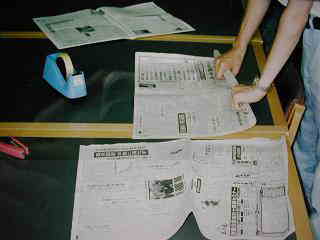 RESULT:

The "Parkinsonian ladder" has some advantages:
it can be made at anytime,at anyplase,and by anybody.

If you use this ladder in various style,you may offer various applied
exercises to your patients.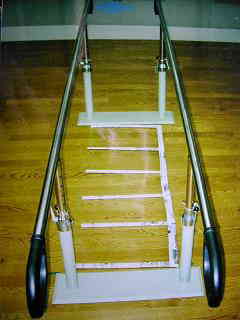 œGait Exercise to Parkinson's Disease (Frozen Gait and Small Steppage Gait)